Charles Moffat (born March 1979 in Wingham, Ontario, Canada) is a Canadian artist, writer, art historian and website designer. He is best known for his painting United States Censorship and his controversial paintings.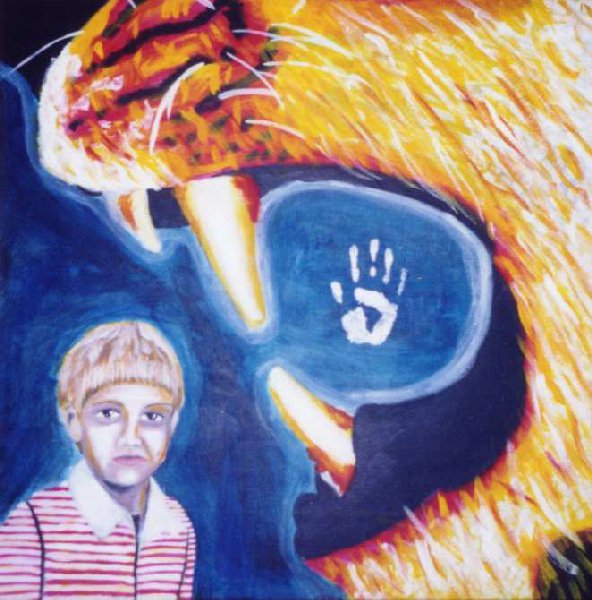 Charles Moffat's "Lion Nightmare #2" from 2001.
Early Life
Charles Alexander Moffat was raised by farming parents along with two sisters. His family is rather creative (his mother is a landscape architect/horticulturalist, his older sister is a graphic designer and his younger sister is a comic book artist/librarian).
As a child Moffat had recurring nightmares about lions. These dreams would later inspire three lion nightmare paintings, like the one on the right which includes a self-portrait of himself at the age of 7. Incidentally, the town of Teeswater (where Moffat went to primary school) in Ontario has a lion fountain near the town library which Moffat says this particular piece is about. Children would stick their head inside the lion's mouth to drink from the fountain.
During his early years Moffat aspired to be an archeologist, a writer and even thought about going into the RCMP. During his teenage years his love of metal sculpture and acrylic painting developed.
Highly political even in his teenage years Moffat wrote a fictional story about an assassin readying himself to kill Jacques Parizeau (Premier of Quebec from 1994 to 1996, during Quebec Referendum) who had been hired by his own political party the Parti Quebecois. The short story with its daring plot and surprise ending (the reader doesn't learn who the assassin's target is until the very end) won notoriety and earned Moffat the dubious title of "Most Likely to Assassinate the Prime Minister" during his graduation from Walkerton District Secondary School.
Education
Moffat studied painting, sculpture, photography, lithography, drawing, mural painting, installation art and art history at York University and became highly influenced by the photography of Cindy Sherman. During his years at York University he also studied gender issues and feminism. His artwork during this period dealt primarily with issues of gothic culture, sexuality, gender and feminism.
Following September 11th 2001 Moffat returned dramatically to his political roots, creating his now iconic painting "United States Censorship" which has since appeared in a documentary about American censorship. He made a reproduction of Friedrich Overbeck's "Italy and Germany" while writing "The Work of Art in the Age of Digital Reproduction".
× East Asian Studies at York University - Moffat studied Korean, Japanese and Mandarin.
× Specialized Honours Bachelor of Fine Arts at York University - During his stay Moffat was elected Vice President of C.A.S.A. (the Creative Arts Student Association manages $150,000 in student funding) for two years and was a York Senator for two years.
× John Diefenbaker Secondary School in Hanover, Ontario - Moffat studied OAC Visual Arts under R. Butchart and focused on painting.
× Walkerton District Secondary School in Walkerton, Ontario - In addition to artistic studies Moffat also studied art history, computer art & design, creative writing, English, French, German, Spanish, philosophy, chemistry, physics, welding and carpentry. He also participated in a Community Art Co-op during which time he painted murals for the town of Walkerton.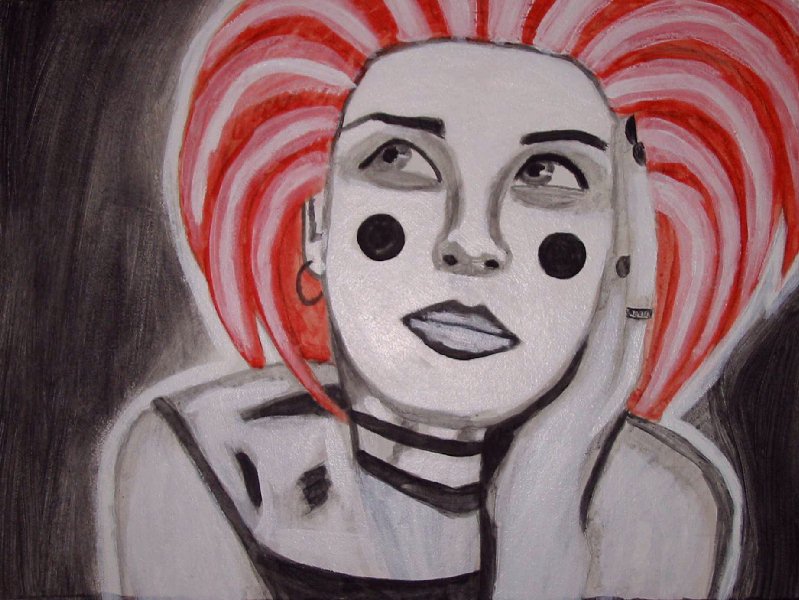 Charles Moffat's "Mirage Thinking" from 2001.
Artistic Career
After graduating Moffat traveled overseas and settled in Jeonju South Korea for a year where he made a photography series about the Korean demilitarized zone. It was during this time (2003-2004) that Moffat became more involved with video art and began "The Fear Americans" series in which he satirizes and pokes fun at the Bush Administration and American fascism.
Returning from South Korea, Charles Moffat studied Chinese, Japanese and Korean at York University before returning to South Korea a second time, this time settling in Seoul near the arts district known as Insadong. In 2005 Moffat returned to Toronto Canada where he began a new series of paintings.
Moffat enjoys and is shocked by his moderate amount of success and fame, as fans of his work frequently ask him to do interviews for school projects and essays about his work, magazines and even video documentaries about his work. He has even attracted a small following of art groupies who copy his work or go out of their way to promote his work.
One of Moffat's fans from Brazil was so obsessed with the painting "Mirage Thinking" she hired a professional bead artist to make a purse out of beads resembling the painting. The same fan also traveled to Toronto, Canada to meet Moffat and admire his works in person.
Moffat's painting style and themes vary wildly. He typically paints portraits in a stylized fashion, becoming rather formulaic about his compositions between the figure in the foreground and the background. He has done works that border on photorealism and abstraction, but the majority of his works are stylized. Moffat's themes include Canadian culture, gothic culture, feminism, health issues, Freudian psychology, war/pacifism, religion/atheism, sexuality and controversial themes.
Charles Moffat also uses photography regularly and enjoys making wood/metal sculptures, woodcarving and video art.
Shows and Exhibitions
× The Ben Navaee Gallery, Toronto, Canada (October 3rd-4th during Nuit Blanche, 2009)
× The Jeonbuk National Art Hall, Jeonju, South Korea (May 8th to 16th, 2004)
× The Louise Odette Sculpture Centre, Toronto, Ontario (April 1st to 7th, 2003)
× York University Open House, Toronto, Ontario (March 6th, 2003)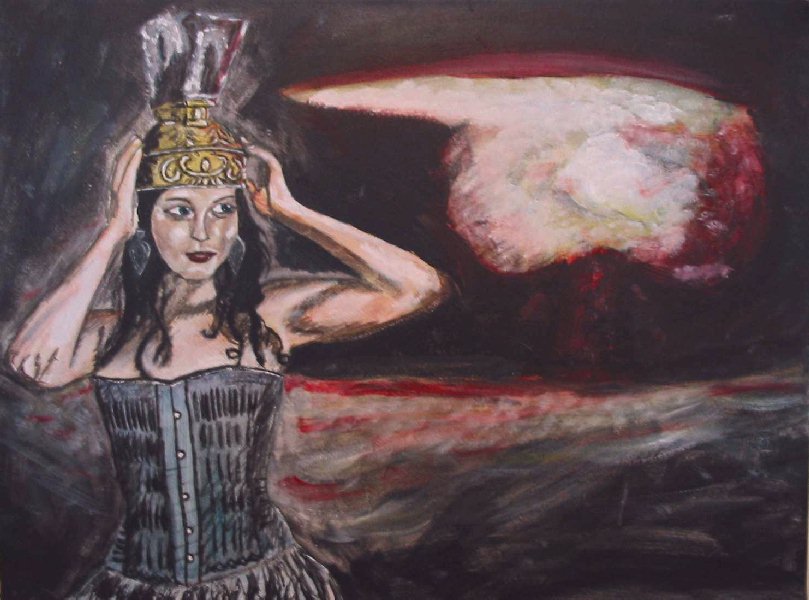 Charles Moffat's "Freudian Explosion" from 2002.


× The Goldfarb Art Gallery (York University), Toronto, Ontario (February 3rd to 7th, 2003)
× York University Open House, Toronto, Ontario (March 2000)
× The Walkerton Juried Art Show, Walkerton, Ontario (March 1998)
× The Annual Durham Gallery Art Show, Durham, Ontario (February 1997)

Galleries
× The Ben Navaee Gallery, 1111 Queen Street East, Toronto, Canada
× The Jeonbuk National Art Hall, Jeonju, South Korea
× The Louise Odette Sculpture Centre, Toronto, Ontario, Canada
× The Goldfarb Art Gallery (York University), Toronto, Ontario, Canada
× The Durham Art Gallery, Durham, Ontario, Canada
× The Lilith Gallery, Toronto, Ontario, Canada
× The Official SoHo Art Gallery, Geocities Website
× The Official Paris Art Gallery, Geocities Website

Media
× "United States Censorship" appeared in the documentary film "FUCK: The Film That Dare Not Speak Its Name", 2006.
× "United States Censorship" appeared as background graffiti in "The Quick & Dirty Guide to Hip Hop" DVD, alongside the image of Barack Obama.
× "The Neo-Gothic Art Manifesto" appeared in the 1st issue of the European Art Magazine, 2006.
× Appeared in a BBC documentary on Cindy Sherman.
× Interviewed by TORO Magazine, "Artist Provocateur", June 2008.
× Artwork "Canadian Goth" and "Kat #1" used by the website GothPersonals.ca, November 2008.
× "Reproduction of the Burney Relief", commissioned by the Discovery Channel and Picture Shack Entertainment for the TV show "The Haunted" in 2010.
× "Incubus in the Night" appeared in a TV pilot about succubi and incubi in 2011.





Writing Career

Non-Fictional Work

Charles Moffat writes regularly for a variety of publications with topics varying from automotives, entertainment, environmental issues, exercise, health, sports and technology.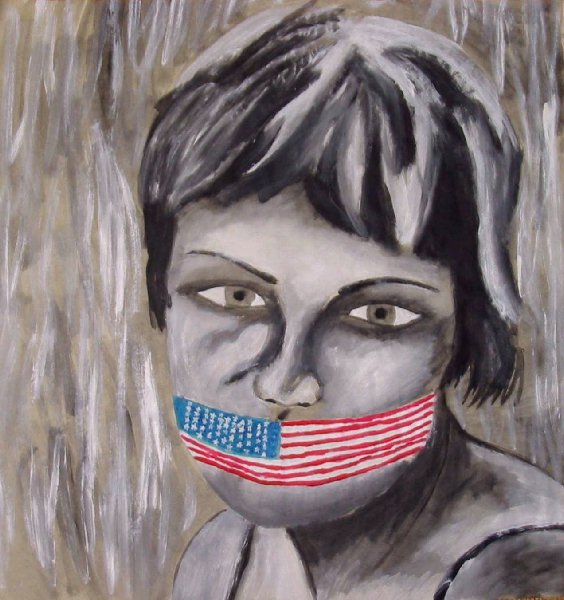 Charles Moffat's "United States Censorship" from 2001.
Moffat has contributed to over 200 different websites and blogs with topics ranging from Art History to Politics. Some of his more noteworthy non-fiction works concern art history and art theory. His piece 'The Work of Art in the Age of Digital Reproduction' is frequently taught in universities.
Art History/Theory
× Abstract Expressionism
× Abstraction: Perfection & Amateurism
× Ancient Architecture
× Contemporary Architecture
× Earth Art
× Fantasy Art
× French Impressionism
× Pop Art
× Prehistoric Art & Ancient Art
× The Neo-Gothic Art Manifesto
× The Work of Art in the Age of Digital Reproduction
× White Box Gallery: Rethinking Art Galleries in the 21st Century
Biographies
× Andy Warhol
× Eleanor Bond
× George Ault
× Gustav Klimt
× Lucian Freud
× Pablo Picasso
× Tamara De Lempicka
Fictional Work
Charles Moffat's fictional work usually takes the form of fantasy and as such he writes about assassins, barbarians, necromancers, gladiators and wars. He is fond of creating heroes with major flaws such as the retired, obese knight in "Bloodstained Tears" and the warrior 'Rades' with post-traumatic stress disorder in "King Culprit".
Novels
× The Paladin Assassin - 1995
× Ice War - 1995
× King Culprit - 1996
× Rise of the Blade - 1998
Short Stories / Anthologies / Novellas
× The Assassin's Trail
× Black Monoliths of Al-Kazar
× Bloodstained Tears
× Brutus and Avianna
× Conan the Assassin
× Conan the Berserker
× The Demon's Pawn (under the pseudonym Frederic King)
× The Lilith Bloodstone Series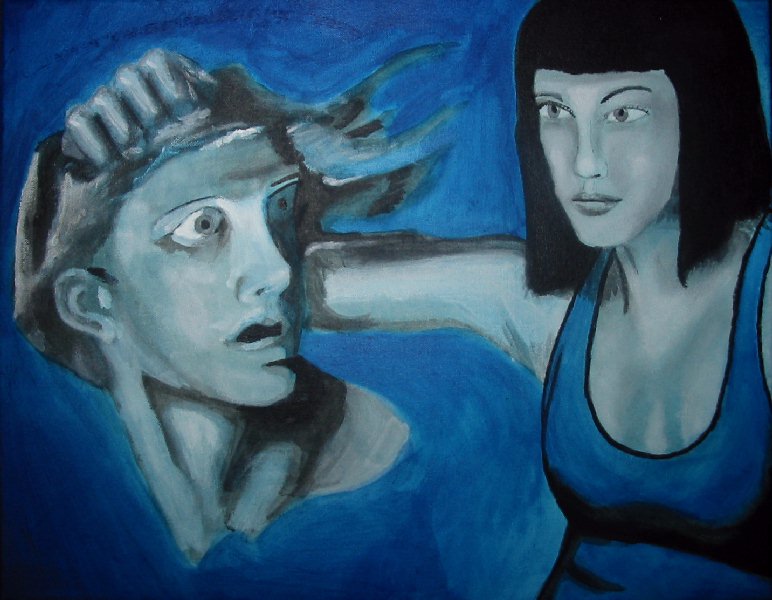 Charles Moffat's "Atalanta with the Head of Orpheus" from 2007.
Current Work
Moffat is currently focused on his writing career, writing a series of novels set in the fictional kingdom of KoroviaŠ.